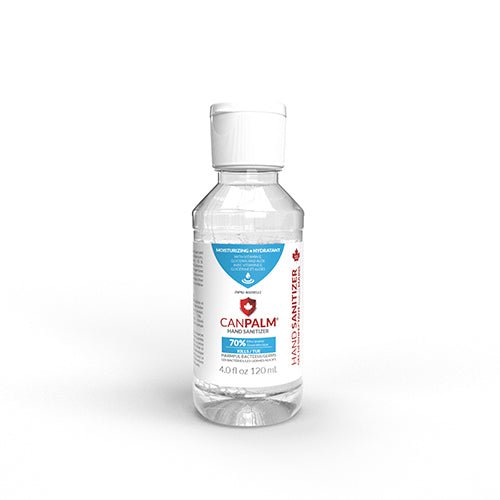 TJP Labs
CANPALM Hand Sanitizer - 120mL
CANPALM is a clear, alcohol-based mixture which quickly eliminates harmful bacteria/germs on the skin and leaves your hands feeling clean, refreshed, and smooth.
Best of all, CANPALM is 100% Canadian. The Juice Punk's site licensed manufacturing facility and products are approved by Health Canada and ensure that our company strives to maintain Canada's excellent global reputation as a supplier of high-quality Natural Health Products. Their mission is to ensure the safety of everyone that uses our products.
CANPALM sanitizes your skin without the need for water by allowing
your hands to air dry. Aloe, glycerin and other moisturizing ingredients ensure your hands are clean and feeling hydrated even with repeated applications.
CANPALM is an optimal solution for a variety of daily life situations. This product is formulated from cosmetic grade ingredients and can be applied directly to the skin. It's great for on-the-go to the office, school, or home and essential for any situation where hand sanitization is critical.
Keep your hands protected against all types of germs with CANPALM
120mL Bottle
(NPN): 80097919
Please Note: Bottle may differ than what appears in image.