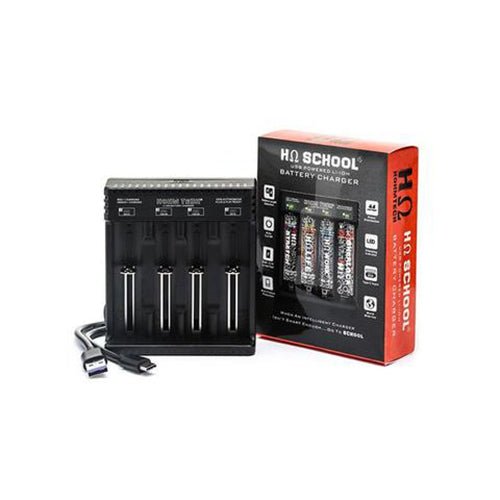 HOhm Tech
HOhm Tech HOhm School 4-Bay Battery Charger
HOHMTECH SCHOOL 4A CHARGER has a 3-tier amp BLD (battery length detection) System; has a variable input voltage IPR (input power regulator) feature.
It is equipped with BLD System, which automates the step-up/down output so both small and larger cells charge at the proper rate (0.5A, 1A, 2A per channel with 4A total distribution). 
Specifications:
BLD System: Battery Length Detection automates charge amplification & reduction on li-ion cells.
Low Voltage Activation: Allows overly discharged li-ion batteries down to 1.95V to be charged via a 200mA stimulate charge.
Input-Power Autonomous Regulator integration (no more stressing USB power adapters or ports)
Compatible with ALL li-ion cells from as short as 30mm to as long as 73mm
LED indicator that reports [green/red] color and blink variation for quick/easy readout
PCB/PCM compatible so even protected cells aren't left out in the cold
Protection: over charge; short-circuit; wrong battery type detection; reverse polarity
Package Includes:
HOhm Tech HOhm School 4-bay Battery Charger

USB Type-C cable

User manual
---
This product will include a 30 day Limited Warranty against any manufacturing defects from the date of delivery. Scratches and discoloration from regular use is considered normal wear and tear and is not covered by warranty.
---
More from this collection