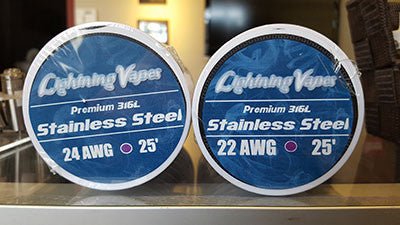 WIREOPTIM
WIREOPTIM 316L Stainless Steel Wire
WARNING: Vaping products release chemicals that may harm your health.
- Health Canada
AVERTISSEMENT: Les produits de vapotage libèrent des substances qui peuvent être nocives pour la santé. - Santé Canada
Previously known as Lightning Vapes, WIREOPTIM produces spools of heating wire in kanthal, nichrome, stainless steel, and pre-made clapton varieties.
25ft spool of 316L Stainless Steel Wire.
Stainless Steel 316L wire is a great temperature control wire. It can be dry fired to clean unlike titanium, and doesn't sag after dry firing like nickel. It is not recommended to be used in wattage mode unless the resistance in ohms can be locked on the device. This is because the resistance fluctuates when the wire is hot versus room temperature. Mechanical mod users however may use this wire, however care & proper understanding of ohm's law, as well as proper safety precautions for sub ohm vaping should be well understood. This product is for advanced users only.
---
Please Note: This product is not covered under warranty and can not be exchanged.
---
More from this collection