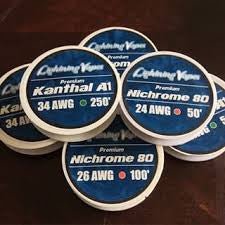 WIREOPTIM
WIREOPTIM Nichrome 80 Wire - 250ft
WARNING: Vaping products release chemicals that may harm your health.
- Health Canada
AVERTISSEMENT: Les produits de vapotage libèrent des substances qui peuvent être nocives pour la santé. - Santé Canada
Previously known as Lightning Vapes, WIREOPTIM produces spools of heating wire in kanthal, nichrome, stainless steel, and pre-made clapton varieties.
250ft. spool of Nichrome 80 heating wire.
Lightning Vapes Nichrome 80 Resistance wire is perfect for rebuilding your atomizer, and especially good for sub ohm coil builds. It has a lower resistance per length compared to kanthal, which means that it will heat up noticeably faster and is a preferred alternative to kanthal.
Melting point °C - 1350
Max continuous operating temperature in air °C - 1200
---
Please Note: This product is not covered under warranty and can not be exchanged.
---
More from this collection