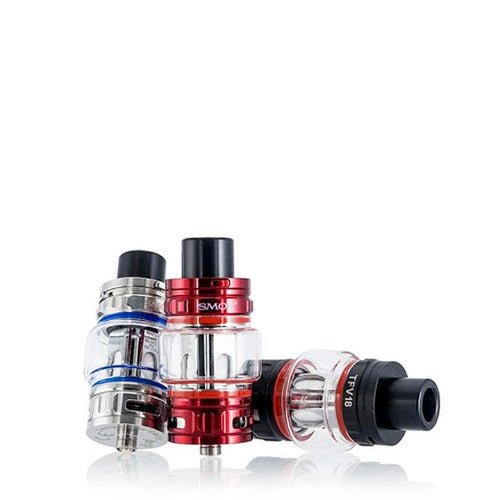 SMOK
SMOK TFV18 Sub Ohm Tank
WARNING: Vaping products release chemicals that may harm your health.
- Health Canada
AVERTISSEMENT: Les produits de vapotage libèrent des substances qui peuvent être nocives pour la santé. - Santé Canada
The SMOK TFV18 Sub-Ohm Tank uses large single and dual mesh coils, and features a whopping 7.5mL e-liquid capacity. The top of the tank is a press and slide mechanism, allowing for quick and easy filling. In the box you will find a 0.33 Ohm and a 0.15 Ohm mesh coil from the SMOK TFV18 Replacement Coil line-up. The 0.15 Ohm dual meshed coil is quite large in size, and with such a large footprint this coil reduces the tank capacity by 1mL, allowing for an approximate 6.5mL fill. The 0.33 Ohm single meshed coil allows for 7.5mL of e-liquid due to its smaller profile. Both coils can be run from 80 to 140W, but are optimal between 100 and 110W. The TFV18 coil series are a press-fit style, allowing users to replace their coils with ease. 
Quick Links
SMOK TFV18 Replacement Coils
Premium Eliquid
Product Specifications
SMOK TFV18 Sub-Ohm Tank

32mm Diameter
7.5ml E-Liquid Capacity
6.5ml Optional Capacity
Press and Slide Top Fill
SMOK TFV18 Replacement Coils

0.33 ohm TFV18 Meshed Coil

Single Mesh
80 to 140W
Best at 100 to 110W

0.15 ohm TFV18 Dual Meshed Coil

Dual Mesh
80 to 140W
Best at 100 to 110W

Press Fit Coils
Dual Airflow Control
Threaded 510 Connection
Package Includes
1 x TFV18 Sub-Ohm Tank
1 x 0.33 ohm TFV18 Coil
1 x 0.15 ohm TFV18 Coil
1 x User Manual
---
Warning: These coils are sub-ohm resistance. These coils should only be used by experienced users. Extra safety precautions should be practised when using a sub ohm tank. These coils will only work on a mechanical mod or a regulated mod capable of firing sub ohm atomizers and coils. For example, if you have a 0.3ohm coil, your mod must be able to fire atomizers of 0.3ohm or lower. You must be also ensure that your batteries can handle sub ohm atomizers and coils. If you're using a regulated mod, make sure it can handle the amps. Improper use can lead to injury or damage. For mechanical mod users, please use 20 Amp batteries or higher. Use the OHMS LAW CALCULATOR, CHECK YOUR AMPS, and be safe! Any questions please contact us by email.
This product will include a 30 day Limited Warranty against any manufacturing defects from the date of delivery. Scratches and discolouration from regular use is considered normal wear and tear and is not covered by warranty.
Queen City Vapes will not be held responsible or liable for any injury, damage, or defect, permanent or temporary that may be caused by the improper use of a LI-ION, LiPo, or rechargeable battery. Please have a basic understanding of the batteries you are using and how to care for them properly.
---
More from this collection