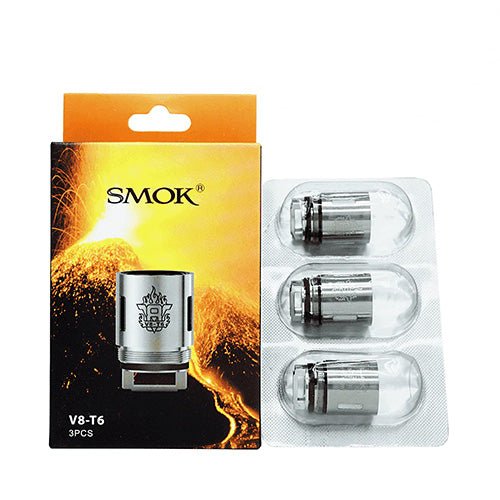 SMOK
SMOK TFV8 Replacement Coils
WARNING: Vaping products release chemicals that may harm your health.
- Health Canada
AVERTISSEMENT: Les produits de vapotage libèrent des substances qui peuvent être nocives pour la santé. - Santé Canada
The SMOK TFV8 Turbo Engines Replacement Coils are powerful cores introduced with the SMOK TFV8 Cloud Beast Tank. Patented in design for high-performance capability, it offers unparalleled airflow performance and incredible vaping experience.
It is offered in 4 different sub-ohm coils: V8-T10 (10T), V8-T8 (6.6T), V8-T6 (6.0T), and V8-Q4 (5.0T). The TFV8 TF-T10 is an ultra-performance atomizer system, featuring a 0.12ohm Kanthal Clapton build with deca (or decuple) configuration to provide unprecedented amount of power, capable of running up to 300W. The TFV8 TF-T8 features a 0.15ohm resistance with an astonishing octuple design orientation with staggering vapor production to be run up to 260W. The TFV8 TF-T6 is a 0.2ohm sextuple coil design with powerful clouds, capable of being fired up to 240W for a smoother experience. The TFV8 TF-Q4 is a 0.15 quadruple coil synonymous with tempered cloud potential while retaining superior flavour.
For building enthusiasts, SMOK implements a robust V8 RBA Head (4.0T-X) with pre-installed 0.28ohm clapton dual coils. The 18mm build deck features two-post, dual terminal design to accommodate a plethora of build styles and coil structures.
Note: These TFV8 Replacement Coils are not compatible with the TFV8 Baby Beast Tank and TFV8 Big Baby Tank.
SMOK TFV8 Turbo Engine Coils Features:
Patented Turbo Engines Coil Structure
V8-T10 Deca/Decuple Coil
Patented Deca/Decuple Coil Design

Kanthal Clapton Coil Material

Turbo: 10T

0.12ohm rated for 50~300W, recommended 130~190W
V8-T8 Octuple Coil

Patented Octuple Coil Design

Turbo: 6.6T

0.15ohm rated for 50~260W, recommended 120~180W
V8-T6 Sextuple Coil

Patented Sextuple Coil Design

Turbo: 6.0T

0.2ohm rated for 50~240W, recommended 110~150W
V8-Q4 Quadruple Coil

Patented Quadruple Coil Design

Turbo: 5.0T

0.15ohm rated for 50~180W, recommended 90~150W
V8-X4 Quadruple Coil
Double-Barrel Pistol Design

CF Mate (Cloud & Flavor Balance Core)

Turbo: 4.0T-X

0.15ohm rated 60~150W, recommended 80~120W
V8 RBA Head

18mm Build Deck

Two-Post, Dual Terminal Design

Turbo: 4.0T-X

0.28ohm Fused Clapton Dual Coil rated for 50~140W
V8 RBA-16 Head
18mm Build Deck

Two-Post, Clamp-Style Mechanism

Turbo: 5.0T-X

0.16ohm Fused Clapton Octuplet Coil rated for 40~100W
Package Includes
One Pack of three (3) SMOK TFV8 Replacement Coils
---
Warning: These coils are sub-ohm resistance. These coils should only be used by experienced users. Extra safety precautions should be practised when using a sub ohm tank. These coils will only work on a mechanical mod or a regulated mod capable of firing sub ohm atomizers and coils. For example, if you have a 0.3ohm coil, your mod must be able to fire atomizers of 0.3ohm or lower. You must be also ensure that your batteries can handle sub ohm atomizers and coils. If you're using a regulated mod, make sure it can handle the amps. Improper use can lead to injury or damage. For mechanical mod users, please use 20 Amp batteries or higher. Use the OHMS LAW CALCULATOR, CHECK YOUR AMPS, and be safe! Any questions please contact us by email.
Please Note: This product is not covered by warranty and can not be exchanged.
---
More from this collection