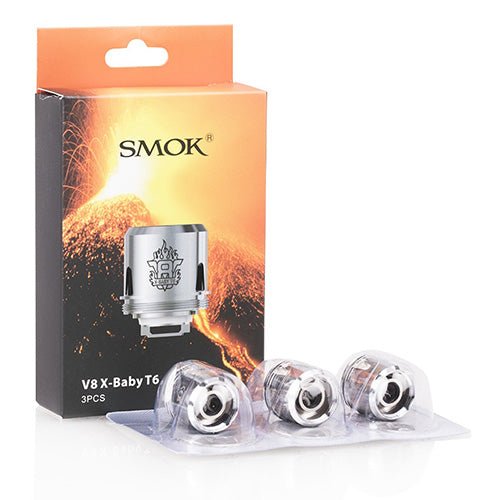 SMOK
SMOK TFV8 X-Baby Replacement Coils
WARNING: Vaping products release chemicals that may harm your health.
- Health Canada
AVERTISSEMENT: Les produits de vapotage libèrent des substances qui peuvent être nocives pour la santé. - Santé Canada
The SMOK TFV8 X-Baby Replacement Coils are powerful, compact cores introduced with the SMOK TFV8 X-Baby Tank. They come in a variety of different resistances and structures The V8 Baby-X Q2 Dual Coil has a dual coil design orientation and a resistance of 0.4ohm with a capable range of 40 to 80W. The V8 Baby-X M2 is a 0.25ohm dual coil design designed for mechanical mod functions with the ability to perform as a regular sub-ohm coil, featuring compatibility with the SMOK Stick V8.
Note: These TFV8 X-Baby Replacement Coils are not compatible with the original TFV8 Cloud Beast Tank.
SMOK TFV8 X-Baby Replacement Coils Features:
Patented Baby-X Coil Structure
Four Large Wicking Ports
Organic Cotton
V8 X-Baby Q2 Dual Core

Dual Coil Design
0.4ohm rated for 40-70W, recommended 50-60W

V8 X-Baby M2 Dual Core

Dual Coil Design
0.25ohm - rated for up to 100W

V8 X-Baby X4 Quad Core

Quadruple Coil Design
0.13ohm rated for 30-70W, recommended 45-60W

V8 X-Baby T6 Sextuple Core

Sextuple Coil Design
0.2ohm rated for 40-110W, recommended 70-90W
Package Includes
One Pack of three (3) SMOK TFV8 X-Baby Replacement Coils
---
Warning: These coils are sub-ohm resistance. These coils should only be used by experienced users. Extra safety precautions should be practised when using a sub ohm tank. These coils will only work on a mechanical mod or a regulated mod capable of firing sub ohm atomizers and coils. For example, if you have a 0.3ohm coil, your mod must be able to fire atomizers of 0.3ohm or lower. You must be also ensure that your batteries can handle sub ohm atomizers and coils. If you're using a regulated mod, make sure it can handle the amps. Improper use can lead to injury or damage. For mechanical mod users, please use 20 Amp batteries or higher. Use the OHMS LAW CALCULATOR, CHECK YOUR AMPS, and be safe! Any questions please contact us by email.
Please Note: This product is not covered by warranty and can not be exchanged.
---
More from this collection