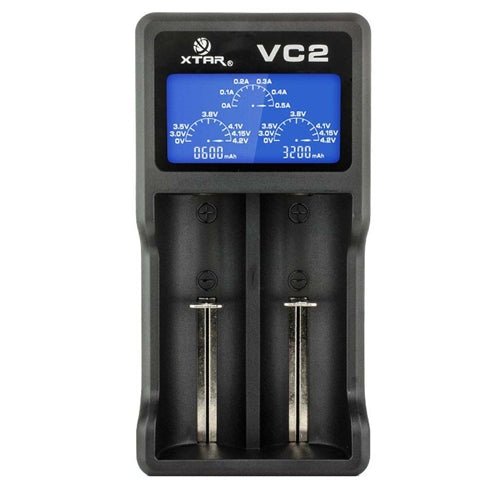 XTAR
XTAR VC2 Two-Bay Charger
*USB TO AC ADAPTER INCLUDED*
Introducing the VC2 Smart Battery Charger from XTAR, which is the world's first 2-bay li-ion battery charger that features an innovative tachometer-style LCD display screen. Compatible with both IMR lithium batteries and small capacity batteries, the VC2 will tell you the real time power of your battery.
Specifications
Dimensions: 131 x 66 x33 mm
Weight: 109g
2-Bay Battery Charger
Input Voltage: DC 5V 1A
Cut-Off Voltage: 4.2V
Charging Current: 500mA - 150mA
Reverse Polarity Protection
Short Circuit Protection
Overcharge Protection
Overheat Protection
Compatible with: IMR/Li-ion/LiFePO4 - 10440,14500,14650,16340,17500,17670,18350,18500,18650,18700,22650,25500,3.6 and 3.7V Batteries
Package Contents
1 x Xtar VC2 Dual Bay Charger
1 x USB Cable
1 x Hop-Pocket
1 x User Manual
---
This product will include a 30 day Limited Warranty against any manufacturing defects from the date of delivery. Scratches and discoloration from regular use is considered normal wear and tear and is not covered by warranty.
Queen City Vapes will not be held responsible or liable for any injury, damage, or defect, permanent or temporary that may be caused by the improper use of a LI-ION, LI-Po, or any rechargeable battery. Please have a basic understanding of the batteries you are using and how to care for them properly.
---
More from this collection